Sites worth of visiting by regions
Turkey is divided into 7 geographic regions :
Marmara (Marmara)
Aegean (Ege)
Mediterranean (Akdeniz)
Southeastern (Guney Dogu)
Eastern (Dogu)
Blacksea (Karadeniz)
Central Anatolia (Ic Anadolu)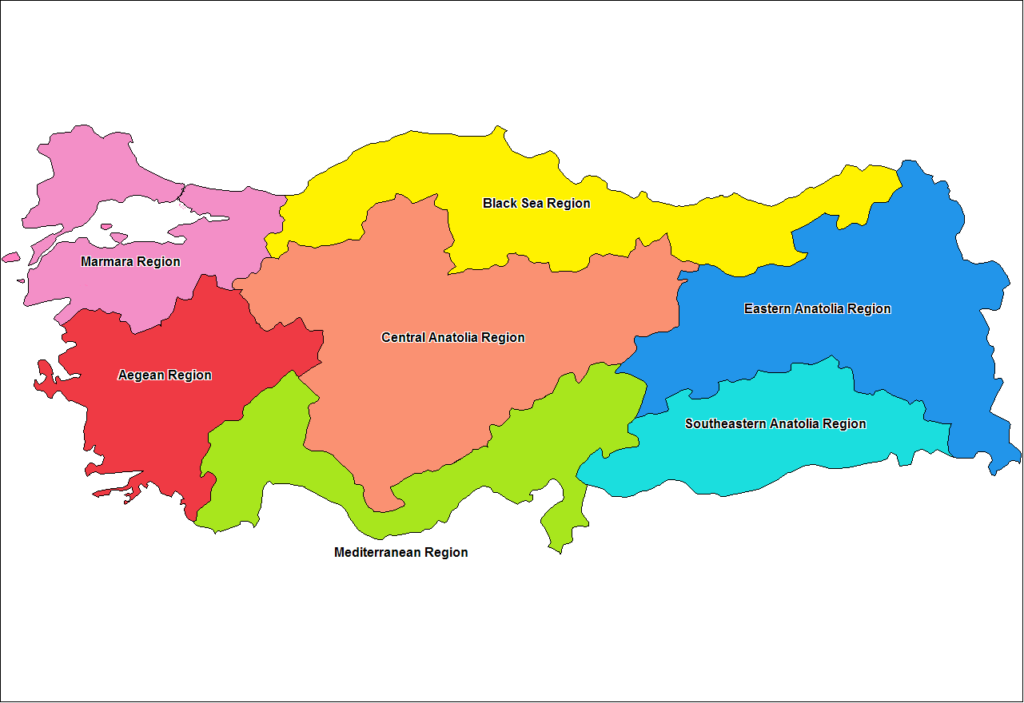 ---
What is the nicest part of Turkey to visit?
Thrace and Marmara Region, Along the Aegean, Ephesus Region, Aphrodisias & Pamukkale Region, Along the Mediterranean, Around Antalya, Cappadocia, Along the Black Sea, Eastern Turkey, Southeastern Turkey
---
As a traveller you may wish to consider the following list of cities and sites worth of visiting by regions.
Thrace and Marmara Region : Edirne, Dardanelles and Gallipoli, Iznik, Bursa and environs, Balikesir
Along the Aegean : Canakkale, Troy, Assos, Ayvalik, Dikili, Bergama (Pergamum), Manisa, Izmir, Sardis (Sart) & Salihli
Ephesus Region : Selcuk, Ephesus, Pamucak, Sirince, Kusadasi, Dilek National Park, Priene, Miletus & Didyma, Soke
Aphrodisias & Pamukkale Region : Aydin, Nyssa, Nazilli, Aphrodisias, Denizli, Pamukkale, Laodikya, Milas, Bodrum, Bodrum Peninsula
Eskisehir, Kutahya, Aizanoi (Cavdarhisar), Midas, Afyon, Isparta, Egirdir, Sagalassos
Along the Mediterranean : Marmaris, Köycegiz, Dalyan/Kaunos, Dalaman, Fethiye, Ölüdeniz, Kalkan & Kas, Ucagiz / Kekova, Demre, Finike, Kemer, Beldibi, Antalya
Around Antalya : Side, North to Konya, East to Antalya, Alanya, Alanya to Silifke, Silifke, Silifke to Adana, Mersin, Mersin to Adana, Adana, Adana to Antakya, Antakya
Central Turkey : Ankara, Gordion
South Central Anatolia : Konya, Sultanhani, Hacibektas, Kirsehir, Kayseri
North Central Anatolia : Safranbolu, Kastamonu, Boyabat, Sungurlu, Bogazkale & the Hittite Cities, Yozgat, Çorum, Amasya, Tokat, Nigde, Cappadocia, Aksaray, Ihlara, Güzelyurt, Nevsehir, Underground cities, Cappadocian Valleys, Goreme, Çavusin & Zelve, Uchisar, Ortahisar, Urgup, Mustafapasa, Soganli, Avanos
Along the Black Sea : Amasra, Amasra to Sinop, Sinop, Sinop to Samsun, Samsun, Trabzon, Trabzon to Erzurum, Kackar Mountains,
Eastern Turkey : Sivas, Sivas to Divrigi, Elazig, Erzincan, Erzurum, Around Erzurum, Artvin, Artvin to Kars, Erzurum to Kars, Kars, Ani, Agri, Dogubeyazit
Southeastern Turkey : Gaziantep, Kahramanmaras, Mount Nemrut, Malatya, Urfa, Harran, Diyarbakir, Mardin, Bitlis, Tatvan, Akdamar, Van, Hakkari
Please check our Cities & Sites section for the most updated information about the cities and sites.