THE HISTORY OF THE IZNIK TOWN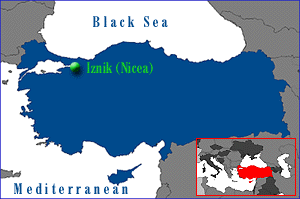 Iznik, formerly known as Nicea, lies at the eastern tip of Lake Iznik, south of Izmit. Originally an important Roman and Byzantine town, it fell to the Seljuks in 1078 and subsequently to the ottomans in 1331. In the town center the ruins of the St.Sophia Cathedral, the seat of the first Eucomenical Council of 325, evoke images of convening bishops and clergy. In the 16th and 17th centuries, Ýznik was the center of exquisite ceramic ware production which has made such an important decorative contribution to mosques and palaces throughout Turkey.
The town of IZNIK (Nicaea) lies on the eastern shores of the lake of the same name. The town is in the city limits of the 'green' Bursa and it is 79 km far from the city center. Its population is 34000.
IZNIK, which is a very old town, was first established in 310 B.C. It was ruled by Roman, Byzantine, and Seljuk Empires and remained under the sovereignty of Ottoman Empire for a long time. It has become a classical town which bears traces of all these cultures.
Throughout the history, IZNIK, which was famous with its pottery, remained as an important center of trade on the road to the east from Istanbul.
During Ottoman sovereignty, the pottery art of IZNIK influenced the European arts and all Ottoman handcrafts became famous and demanded. For example; Sir Harry Garner in discussing IZNIK tiles and ceramics of the 16th century, remarks that " The Turkish pottery from IZNIK can claim to be the most decorative and colourful pottery ever made."
Tiles and potteries from IZNlK occupies an important place within selected arts of both Turkish and World Museums.
IZNIK is remarkable for the monuments belonging to the Roman, Byzantine and Ottoman Age. Most of the historical buildings are well preserved. Thus the region looks like an open-air museum. That's why IZNIK is proclaimed as an historical urban place to be protected.