BURSA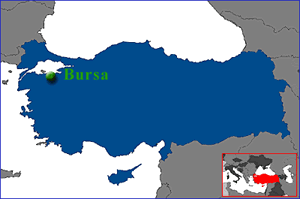 Bursa was the Ottoman capital before Edirne. Today, unlike Edirne, it is a city of 1.5 million people and is a repidly developing industrial and commercial center. Because of the city's historical treasure, it will take you all day to visit Bursa and you will want to stay in extra day.
Muradiye
Muradiye is the cemetery for many Ottoman Sultans and Princes who were buried in a poetic garden in the shade of 1.000 year old plane trees. Next to this beautiful cemetery is the 15th century Muradiye Mosque, also worth visiting.
Osman-Orhan
The two mausoleum belong to the founders of the Ottoman State, Osman Bey and his son, the conqueror of Bursa, Orhan Bey. They are located in a terrace with a magnificent view of Bursa and beyond.
Ulu Cami
This, the "Grand Mosque" is located in the commercial center of town, next to the covered bazaar and silk manufacturers' bazaar (Koza Han). Built at the end of the 14th century, the Ulu Cami is an interesting example of the period before the classical Ottoman architecture. It is worth the visit with its water fountain inside and its pulpit which is considered to be a masterpiece on woodworking.
Yesil
The district called Yesil (green) is and important part of town with its turquise colored mosque and inner mausoleum which were built during the sultan Mehmet I period. The tomb of Mehmed I is inside the Yesil Türbe. Mehmet I is considered to be the second founder of the Ottoman state as he re-established the empire after the invasion of the Mongolians ruled by Tamerlane in the 15th century. The Yesil Türbe is attractive with its ceramics, interior decoration and woodwork on its doors. The small mosque accross the mausoleum is a fine example of marble workmanship and glazed tiles. The Yeşil Mosque is called the "Jewel of Bursa" because of its beauty, both inside and out.
Other Places of Interest in Bursa
The Koza Han (Silk Producer's Bazaar) and the covered bazaar, including the Bedesten must be visited when in Bursa. You will change your mind after a visit to these places even if you are determined not to spend a penny in Turkey!
If you have time, go to the Turkish baths in Çekirge and surrender yourself to an "expert of message and cleansing", "tellak" if a man, "natir" if a woman. As you leave, you will say, "I have never been so clean in my life!"
Other places of interest are the Yildirim Bayezit Mosque, Emir Sultan and Orhan Mosque.