Food & Drink
If you don't know 40 different ways of cooking eggplant…
Understanding the repertoire & cultural practices…
Have that authentic Turkish feel…
Visitors who are not familiar with Turkish cuisine have a delightful surprise in store for them: stemming partly from the spectacular variety of ingredients and partly from the influence of the numerous civilizations which have inhabited Anatolia throughout history, Turkish cuisine is simply delicious.
Regional Specialities
As you visit different areas of Turkey, there are local specialities which must be eaten in their home region to be fully appreciated. Thus Kanlica in Istanbul is famous for its yoghurt, Bursa for its Iskendar Kebab, Gaziantep for its pistachio nuts, the Black Sea for hamsi (fried anchovies) and corn bread and the Syrian borderlands (Urfa and Adana) for spicy shish kebabs.
Starters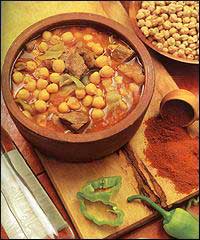 A meal out will usually start with a selection of mezes — appetizers — from an enormous and very colorful platter brought to your table by the waiter. Cold mezes include stuffed mussels (midye dolma), humus, pureed aubergine salad (patlican salatasi), stuffed vine leaves (yaprak dolma) and Circassian chicken (cevizli tavuk). Among the selection of hot mezes are usually borek, (thin layers of flaky pastry stuffed with cheese, meat or spinach), sautéed lamb's liver with onions and kalamari.
Salad lovers will find a variety of unusual, spicy herbs appearing along with the standard tomato and cucumber, especially in the south. Roka is a bitter herb which translates as rocket in English, and you may also find spiky dereotu (bitter cress), nane (fresh mint) or even kuzu kulla (sorrel). A spinachy-textured vegetable frequently served in garlic-yogurt is called semizotu, known to us as purslane.
Main courses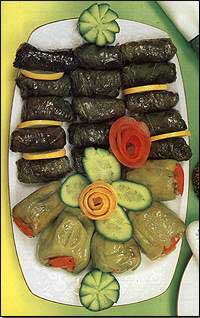 Main courses are generally fish or meat kebabs, though this word is used in a much wider sense than generally understood in the West. The spices and herbs used to delicately flavor the meat varies from region to region. Guvec dishes are delicious casseroles cooked in earthenware pots. Et sote, a kind of goulash, is very good, as is coban kavurma. The eating of fish has an elevated if not cult status in Turkey. It is best eaten in an open-air restaurant by the sea, preferably Anadolu Kavagi, Rumeli Kavagi or Kumkapi, always accompanied by raki, and enjoyed in the company of good friends. The choice depends on the catch of the day, and may include swordfish (kilic), bluefish (lufer), turbot (kalkan) or lobster (istakoz).
The staple of lunch time cafeterias is ev yemek, which translates literally as home food, signifying tasty vegetable and meat-based stews. An interesting aspect of Turkish drinking culture is the all-night iskembe parlor, which serves tripe soup. It is considered medicinal after a night on the town, with crushed garlic from a bowl, red pepper, oregano and vinegar added to taste.
Desserts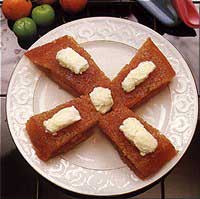 In restaurants, dessert is often a beautifully presented selection of seasonal fruits. In spring this may be green almonds and plums, generally an acquired taste for foreigners. There are strawberries in May, cherries in June, melons in July and August and apples, pears and pomegranates in autumn. Winter is the time for Turkish-grown citrus fruits and bananas.
For a wider selection of sweets try the pastane, or pudding shop, where you'll find all the traditional Turkish sweets such as lokum, or Turkish delight, baklava, kadayif, halva and asure (traditionally held to contain the forty different ingredients left in the Ark's kitchen when Noah sighted Ararat). Sutlac, or rice pudding, is also popular, as are profiteroles, best tried at Inci Pastanesi on Istanbul's Istiklal Caddesi.
Breakfast
Turkish breakfasts are dominated by freshly baked bread, eaten with salty white cheese, olives, tomatoes, cucumbers, butter, honey, jam, and often a boiled egg. Deliciously creamy yoghurt is an optional extra. Other breakfast alternatives include pastry shops which serve a variety of flaky pastries with cheese or meat fillings.
Drinks
Turkey produces some excellent dry wines, both red and white, which go well with a variety of foods. Names to look out for include Villa Doluca, Kavakladere Cankaya, Yakut and Dikmen. Efes and Tuborg beers are almost always the only beers available, and both are good. A must is the local aniseed-based drink, raki, drunk with water added and called "lion's milk" by Turks. But heed this tried and tested warning well: "you must drink the raki and not let it drink you!" A meal is often followed by an espresso sized cup of Turkish coffee, though Italian coffees are becoming increasingly popular.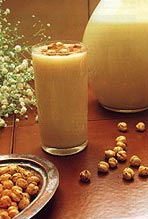 For day-time and non-alcoholic alternatives, try ayran, a yogurt, salt and water mix. Freshly-squeezed juices are also widely available and cheap, but best in winter when the citrus season is in full force in the South. There is also carrot juice, banana milk and sour apple juice. Strong black tea in tulip shaped glasses will be served any time you are asked to sit and wait, or go visiting, but there is also a strong tradition of herbal teas, some of which (like sage) are unusual to the western palate but very good.
Boza and sahlep are popular drinks in winter. The former is made from mildly fermented millet and tastes rather like eggnog. Sahlep, on the other hand, is served hot on ferry boats and other public places and is made from the pulverized tubers of the wild orchid. It is very sweet and comes sprinkled with cinnamon, and is the perfect companion on a cold winter's day.
* Pictures from " The Turkish Cuisine " by Mehmet Yazgan