Turkey
History
Tips for travellers
General Travel Information about Turkey
CAPITAL: Ankara
| | |
| --- | --- |
| FLAG: The national flag consists of a white crescent (open toward the fly) and a white star on a red field. | |
ANTHEM: Istiklâl Marsi (March of Independence).
The total area Turkey covers is a bit less than 800.000 sq km ( 774,815 sq km ), which makes it one of the biggest countries in Europe and the Middle East. The neighbours are Greece and Bulgaria on the norhtwest,Armenia and Georgia on the northeast, Iran and Irak on the southeast and Syria on the south. Of all, the Turkish-Syrian border is the longest.Turkey has no direct border with Russia, but the Black Sea on the north.The other seas that cover Turkey are the Aegean on the west and the Mediterrenean on the south. In other words, Turkey is a huge big peninsula wrapped up by seas on three sides that looks like the head of a horse, as a Turkish poet has put it.
Turkey is divided into 7 geographic regions :
Marmara (Marmara)
Aegean (Ege)
Mediterranean (Akdeniz)
Southeastern (Guney Dogu)
Eastern (Dogu)
Blacksea (Karadeniz)
Central Anatolia (Ic Anadolu)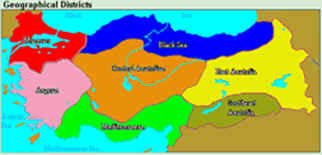 Map of Turkey by regions
In addition to the museums and monuments of Istanbul, places of interest include the Aegean ports of Izmir and Bodrum; the ancient cities of Troy, Ephesus, Tarsus, Konya, Samsun, Erzurum, and Trabzon, Mt. Ararat, traditionally considered the landing place of Noah's Ark, the remains of which some expeditions have tried to find; the ski resort of Uludag, 36 km (22 mi) south of Bursa; and the sea resort of Antalya, on the Mediterranean coast.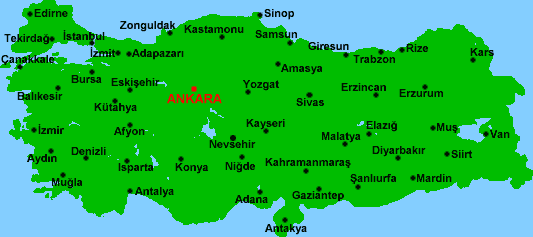 Map of Turkey by cities
One of the most exciting things about Turkey is that it is ever-changing and never dull. But because of this continuous flux, it is necessary for travelers to double-check details, particularly regarding prices, which change from time to time.
In 2000, 9,585,695 tourists arrived in Turkey. Tourism receipts totaled $7.6 billion. There were 155,441 hotel rooms and 322,334 bed-places with a 37% occupancy rate that year.
In 2001, the US State Department estimated the cost of traveling in Istanbul at $218 per day; the estimated daily cost of staying in Ankara was $223.
It does not matter how you name it : Turkey, Turkei, Türkei, Turkiye, Turkije, Turquie, Anatolia, Istanbul, Istambul or Turkisch Riviera; If you have any queries, comments or useful tips to pass on, contact us at www.turizm.net/contact so that we can update our files. All correspondence is welcome.