Fountains & Water Systems
Water System was repaired in the period of Mehmet II, and later repairs continued in the period of Süleyman I. A good number of dams were built to meet water requirement of the city. An example of this is the Maglova Dam.
In Istanbul, there are many examples of fountains as significant works of the Ottoman Architecture, there are more than four hundred inscripted fountains on the Rumelian (European) side. When others added thereto, figure rises to sevenhundred ninety- four. Some of these are adjacent to the walls of buildings. The oldest example thereof are: Davutpaşa Fountain (1559-1560)Sahruh Fountain in Fatih (15591560)-Karamustafa Pasha Fountain in Suleymaniye (1677-1678)Kazasker Esat Efendi Fountain in Kabatas caused to be repaired by Selim III.
Fountains of the Tulip Period gain more delicate appearances:
Ahmet III Fountain in Kagithane Fountains with Baroque influence were observed at the end of the Tulip Period: * Sultan Zeynep Fountain in Sirkeci The most monumental example of the Square Fountains are the fountains located in the area in front of Topkapi Palace, and Ahmet III fountain in Uskudar. Tophane Fountain of Mahmut I (1732) and German Fountain on Sultanahmet Square (1901 ) are foreign style monuments. Examples of the Charity Fountains which are rarely rendered outside Istanbul are Haci Ahmet Ağa Charity Fountain in Dolmabahçe (1644) and Koca Yusuf Pasha Charity Fountain in Kabatas (1787).
Turkish Baths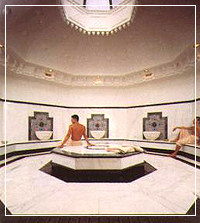 In every complex in Istanbul, a bath was built. Most of these were of double-bath plan. The bath within the Mahmutpaşa Complex (1466) attracts attentions with its octagonal planned hot room. Beyazit bath is a monumental building remaining from the l6th century.
Important examples made by Architect Sinan are Çemberlitaş and Haseki (Hagia Sophia) baths. Architect Sinan has built 23 baths in the city. Tiled Bath in Zeyrek, is noted for its tiles covering upper parts of walls with colorful decorated marbles, and the water-tank. Latest large sized bath of the city is the Cağaloğlu Bath near the underground cistern (1740).