Byzantium Period
It was founded by the name of Byzantion within an area of 2 km² the hill where St Sophia and Topkapi Palace are, in 7th century BC by Magarians. City is surrounded by walls which has a few number of gates and twenty-seven towers. Agora of the city is where St. Sophia is located. Very limited information is available on Byzantium of Roman Period. Strategical location and commercial significance of city in 2nd century BC could not be underestimated. The point surrounded by walls was doubled in this period. Construction of hippodrome was initiated, and completed during the time of Constantinus I (the Great). It is 450 m long. The theater took place where Topkapi Palace is situated now. Roman bathes were on the north-east of the Hippodrome (325). Significant public works were accomplished in the period of Constantinus I. Old walls were demolished and replaced by new walls. In this period ideal distribution was intended in fourteen management areas on seven hills. In buildings, Hellenistic and Eastern influences were considerably dominant. Construction of St Sophia was first initiated in 364. Also aqueducts of Valence (Sarachane and Bozdogan), bathes etc. were built.
Theodosios (379-395) followed the footsteps of Constantinus I. New forum was built (395-408). Large walls were constructed in the period of Theodosios II (408-450). This doubled the area of the town. Very few of the architectural monuments, except religious buildings, have reached our days. Even the traces of the Great Palace (Daphne), built in the period of Constantinus I, does not exist now. Remains of Bukoleon Palace is at Catladi Kapi. The Tekfur (Emperor) Palace was built in 11 Th. and l2th centuries. This building still preserves its firmness.
Construction of water system to meet the water requirement of Istanbul was initiated in the period of Hadrianus, Emperor of Rome (117-138). Valence Aqueduct was repaired and used in Byzantium and Ottoman periods. One of the most important struggles of Byzantines was to provide water for the city. Philahienon (Thousand and one column Cistern, having 224 columns) and Myrelaion Cistern (Yerebatan Sarayi, Underground Cistern dimensions of 140x70 m and having 336 columns) are worth visiting.Best preserved examples of Christian religious buildings are Hagia Sophia and Hagia Eirene. Greek Cross planned small size Khora Monastery Church (Kariye Mosque) located in the west of the city was repaired in the Period of Commenses and Palaiologuses. There were a great number of monasteries, chapels and churches in the city. A great part of these were demolished before the city was invaded by the Ottomans. Among the religious buildings reached our days Hagios lovannes Prodromos basilica (Imrahor Ilyas Bey Mosque), a part of the Studios Monastery (454-453), Sergios and Bakhhos Church (Small Hagia Sophia) are of central plan. Kyrotissa Monastery (Kalenderhane Mosque) believed to have been constructed in l3th century is of Closed Greek Crossed plan.
Important Buildings of the Byzantium Period
Tower of Leander:
It was initially built out of timber on the Bosphorus by Alkibiades, Athenian Commander in 410 BC to watch the ships coming from Black Sea. When it was damaged by fire, it was rebuilt out of stone by Sultan Ahmet III.
Galata Tower:
It was built by Genoeseans as the head tower of Galata walls. It is 61 meters high and has 12 floors. Following its demolishing, it was repaired by Architect Hayrettin. Now, it is being used as an entertainment center.
Hagia Sophia: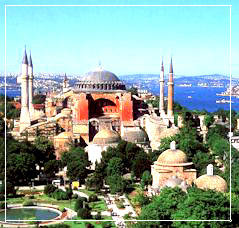 Hagia Sophia is one of the buildings remained to our days through the history. Present building is not the original one. Initial building was opened for worshipping in 360 by Constantinus,Son of Constantinus (the Great) II. It burned down in an uprising in 404. Second church which Theodosius II had built was opened to worship in 415. This is a 5 nave basilica. It burned down during an uprising which started in the hippodrome in 532. Today's Hagia Sophia is a building of Athemius of Tralles (Aydin) and Architect Izidor of Miletos. It was initiated upon Emperor Justinianus' demand for a huge and magnificent church and was opened to worshipping in 537. With the size and the ornaments of its dome, it is among the magnificent buildings of its time. It is not resistant to earthquake. It was seriously damaged in an earthquake and repaired in 558. It was pillaged by the Crusaders army. It was repaired after conquest of Istanbul by Turks and ornamented with colorful marbles and mosaics. Dome carried by four big elephant legs is not quite round, its diameter . is 31-36 m. It sits on forty feet, transformation from round to square is provided with triangular mountings. Hagia Sophia has been used as a mosque for long years and transformed to museum in 1935.
Hagia Eirene:
It is located just behind the Hagia Sophia mosque. It is one of the oldest Byzantium churches and was built in the period of Constantinus in the beginning of 4th century. Hagia Eirene now is opened to the public as a museum. Recitals and Concerts are organized here.
Atik Mustafa Pasha Mosque:
It is located in Ayvansaray. It was built for St. Pierre and St. Maria by Leo I in 458. It was transformed to mosque by Beyazid II.
Imrahor Ilyas Bey Mosque:
loannes Predromes Monastery built in 463 between Samatya and Yedikule is one of the most important Christian centers of the Byzantium Period. It was converted to mosque in the period of Beyazid II.
Arab Mosque:
It is located in Galata. It was built in 717 when Arabs sieged the city.
Bodrum Mosque:
It is a 8th century structure located in Laleli. Small Hagia Sophia: It was built by Justinianus I in 527 on a central plan basis.
Kalenderhane Mosque:
It is located in Vezneciler. Based on its architecture is believed to have been built between the 9th and l2th centuries.
Late Byzantium Buildings
All art historians agree on announcing that a final liveliness is observed in Byzantium art during the last period of Byzantium Empire reigned from 1261 to 1453. Despite the regression in the political field of the Empire, a development evidencing itself in cultural life, especially in literature and drawing art, has led this period be called "Renaissance of Palailoges". There is a subject of this last period's art which practically is not dwelled upon is the architecture. In this period, the Capital, that in Istanbul, as well as having a style of her own in drawing art it is observed that a style peculiar to her is also observed in architecture. Religious buildings in Istanbul of the Paloiologos' period representing the late Byzantium Architecture are described below :
Lips Monastery (Fenari İsa Mosque):
It is located on Vatan Street, Yenibahce section. Patris and Drungarios Constantions had the Lips Monastery built in 1290.
Hagios Andreas Monastery (Kocamustafapasa Mosque):
Built in 1284, the Monastery is located in Cerrahpasa. It was built in the name of Hagios Andreas. It is an example vestibule design. Kocamustafapasa had it converted into a mosque.
Dammakaristos Monastery (Fethiye Mosque):
It is located in Carsamba. It is estimated to have been initiated by Joannes Comnenos who died in 1067. Construction of the main building (1294) and its annexes continued until 1400. The southern building (1315) of Greek cross type, and the northern building of gallery type have been made as an annex to the outer hall (1350-1400). South facade of the building due to use of stone and brick in various forms, has attained a colorful appearance. Its main dome is decorated with mosaics
Khora Monastery (Kariye Mosque):
It is located in Edirnekapi. It is famous for its mosaics and frescoes. First building was erected outside the walls of Constantinus. Later it was contained within the walls of Theodosius. Remains of the first building have not reached our day. Present building remained from 11th century. It was rebuilt by Maria Doukaina, mother-in-law of Alexios Comnenos I in 1077-1081. It was built according to a plan of single dome seated on four wide arches. Later, when its foundation collapsed, it was rebuilt and additions were made to the building in 1305. Its famous mosaics and frescoes were arranged by Architect Great Logothetes Theodorus Metokhites (1313). This building contains all architectural characteristics of its period.
Subjects of the mosaics in this building may be classified in six categories:
1. In inner and outer narthexes, scenes depicting persecution and offering of the building to God,
2. On two domes of inner narthex, scenes from the life of Jesus,
3. In first three parts of the inner narthex, scenes from the life of Virgin Mary,
4. In sectors of outer narthex, scenes from the childhood of Jesus,
5. On the vaults of outer narthex and in the forth sector of inner narthex, scenes from the prophethood of Jesus,
6. In the naos, an important panel depicting the death of Virgin Mary.
Today, the Kariye Mosque is being used as a museum.
Hagios Theodoros Church (Church Mosque Or Molla Gürani Mosque):
Built in the 11Th. century, it bears architectural characteristics of two separate periods. The outer narthex was annexed in the l4th century. Semsettin Molla Gurani converted it to mosque.
Hagios Nicholaos Church (Boudan Palace Worshipping Places): It is situated Draman and was built between 1300-1350. It is an example of single nave construction plan.
Panaghiotissa Church (Mouhhliotissa Church): It is situated in Fener and was built in 1266. It is an example of the trefoil construction type.
Hagia Panaghia Church: It is located in Heybeliada and is an example of the trefoil construction type. It was built between the years 1400-1450.
Monastery Masjid (Small Mosque): Situated in Topkapi, it was built between 1261-1300. It is an example of single-nave plan.
Jesus' Gate (Ese Kapisi Masjid): It is situated in Cerrahpasa and was built in the period of 13001325. It is an example of single nave-plan.
Sinan Pasha Masjid: It is in the vicinity of Ayakapi. It is an example of single nave plan of the period between 1300-1325.
Khristos Soteros Philanthropos Church: It is situated in the Marmara walls, on the skirt of Topkapi Palace and was built between 1310-1320. Facade of lower floor of the building bears the characteristics of late Byzantium architecture.