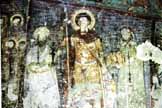 Here's a sample of frescoes. With little moisture, and total darkness these frescoes are nearly perfectly preserved.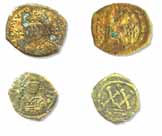 These two coins (obverse & reverse shown) were found in the silt under our sleeping bags! The entire canyon is littered with Roman and Byzantine coins. If anyone can identify them, please write me! I found several other coins and a bronze ring too, the entire valley is a buried museum!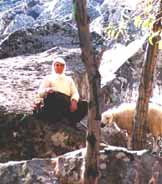 Back outside, you can meet the local inhabitants of the Ihlara Valley. This woman, from Belisirma, was tending to a small flock of sheep. Before we met her we found some excellent walking sticks left along the trail. We grabbed them to help us balance as we scrambled over the rocks. As we came across this woman she too had a similar walking stick. But she wasn't walking with it, instead she used it to beat fresh leaves from the trees to feed her sheep (the stick lies at her side). As she departed, she casually tossed the stick near a tree on the trail. The very same sticks we where picking up and walking with. I have never felt so guilty of theft before. We quickly put the sticks down near other trees, and reminded ourselves of the cardinal rule of leaving EVERYTHING untouched.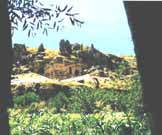 This area lies near the village of Ihlara, and includes many fine churches. I've recently seen a television commercial in the USA showing a truck driving up to this dwelling. I pride myself on knowing not only where this commercial took place, but also how impossible it would be to drive a truck in here. The truck commercial was obviously faked with computerized special effects. No one probably cares, but I feel good knowing it :)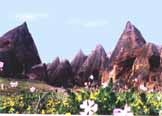 This is one of my favorite areas, especially in spring. These "Fairy Chimneys" were formed millions of years ago by eroding volcanic rock. During the 1st century, local inhabitants carved out dwellings and churches. To find this surreal area, head across the river to the East from Yaprikhisar (up stream). Cross the farmer's fields and head for the far hillside. To see some more wonderful Cappadoccian landscape, head back to Göreme. Here you can hike into the colorful valleys and find more dwellings, although most have been lived in up until the 1950's, thus they have lost that special "Indiana Jones" appeal.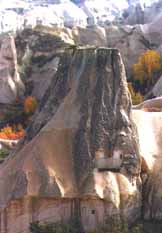 This is one of my favorite homes. In the fall, with the trees turning color, it is a wonderful place. Note the stairs carved into the side of the rock, and the tiny windows. Pigeons now inhabit this home and the local farmers use the droppings for fertilizer.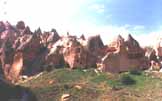 Not far, lies the village of Zelve. This is a highly touristed site, but shouldn't be missed. I've explored this valley extensively and found nothing, but it is a fun place. Hiking the hills behind the valley is most rewarding too.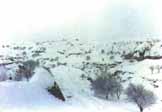 And cold in the winter! This is the exact same valley as in the previous photo, and I am standing in the same spot. Snow drifts hit this high plain and you can be stranded for several days. The best part of winter, is the absence of tourists! Drink plenty of Selep (a hot milky drink made from a plant root similar in taste to tapioca) and spend lots of time in the Ürgüp Hamam (Turkish bath). It will a memory forever!