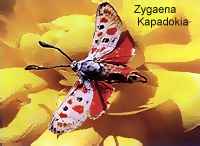 The region of Cappadocia in central Turkey is famous for its fantastic volcanic formations and its rock churches, but few are aware of the wildlife and particularly butterflies here. Turkey's longest river, the Kızılırmak (1355 km) flows through valleys carved over thousands of years from the multicoloured strata of volcanic tuff rock formed by layers of ash deposited by ancient eruptions. Lying at between 1200 and 1500 metres, Cappadocia's strange landscape is often reminiscent of another planet. But arid as it might seem, Cappadocia has in fact been a valuable agricultural area since Hittite times, producing large quantities of onions, wheat, grapes, and in more recent time potatoes.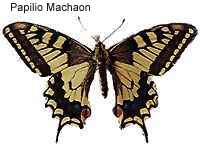 Small oases of green vegetation scattered along the otherwise inhospitable valleys provide sustenance not only for human beings but for a wide diversity of wildlife, including birds, insects and reptiles. In the first warm days of April butterflies and moths of a myriad colours and designs emerge from their chrysalises. One of Europe's foremost areas in this respect, Cappadocia is home to over two or three times the number of moths. What makes Cappadocia of particular interest to naturalists is the fact that species native to Europe, North Africa and the Near East are found together here.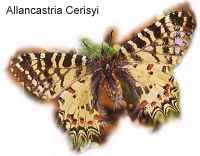 Potato fields attract Papilio Machaon, with its blue and red spots on white ground and wings tapering into long tails. The Balkan species Allancastria Cerisyi is also to be seen here, as is the rare Parnassius Apollon, which flutters on the high forested slopes of Mount Erciyes. The lovely Issoria Hathonla, with is metallic silvery spots on the underside of its wings, appears in late spring and can be seen throughout the summer. A visitor to flower gardens in summer and autumn is the large Argynnis Paphia, while in in the summer the dry hills are home to Chazara Briseis,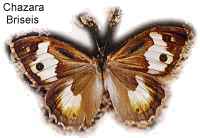 patterned in grey and yellow on black. One of the species unique to Turkey is Agrodiaetus Iphigenia Nonacriensis, distinguished by its incandescent turquoise wings. Most famous of the species native to the Cappadocian region and not found else where is Zygaena Kapadokia, a tiny but beautiful butterfly moth which lives in grassland.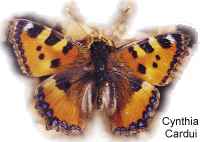 Butterflies are generally short lived, but there are exceptions among migrating species which leave North Africa in early spring and fly thousands of kilometres northwards. The most common of these is Cynthia Cardui, which is seen throughout Europe as far as Scandinavia. The first swarms of migrating butterflies arrive in April, and remain until October, laying eggs twice during the summer on thistles and nettles. So when you are in Cappadocia take time out from the frescos and rock hewn churches to watch for the butterflies, which add another dimension of interest and colour to this unique region.
Source:

By Turgay Tuna
SKYLIFE 8/97