Bazaars & Caravansarays
Auction rooms and antiquity markets (bedesten) built out of stone against fire constitute the master buildings of business life of the Ottoman Period in Istanbul, the busiest commercial center. Earliest example of these is the Inner Auction Room (Old Bazaar) made in the period of Mehmet II. Building is covered by fifteen domes seated on brick arches. The largest auction building of the Ottoman Architecture from the standpoint of number of domes is the Sandal Bedesteni (New Bazaar) annexed to inner auction room (it is covered by twenty domes seated on twelve feet)
The roads amongst the shops made of timber which take place around these auction rooms and antiquity markets are covered with vaults and thus today's market was formed. Later the inns in the vicinity were added to the covered bazaar (such as Sarnicli, Alipasa, Pagavraci, etc.). Generally, around large complexes, streets of one particular trade (arasta) were formed. Most famous example of these formations are the streets behind the Sultanahmet (Blue) Mosque. Now this place is called Sipahiler (Cavalrymen) Market. Arasta of the Yenivalide Complex is the Spice Market (Misir Carsisi).
The Covered Bazaar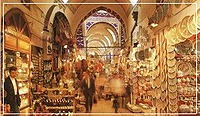 Covered bazaar which attracts the attention of everybody, domestic and foreign, is a building which has an important place in the economic and social life of the Ottoman Empire. The market has been formed of a combination of a few historical bedestens (auction rooms and antiquity markets). Old (inner) Bedesten and New Bedesten built in the period of Fatih (Mehmet II) are the most important parts. Inner Bedesten is 45.50x30 m and is covered by 15 domes. New Bedesten is 90x32 m and is covered by 20 domes. Damages caused by fires and earthquakes in the Covered Bazaar which became larger with additions made at later times were repaired. Handicrafts developed in Istanbul were densified here. Although it lost this characteristic, it still
keeps its attractiveness.
Julie Pardue who came to this city in the l9th century states; "The market of Istanbul is one thousand and one night tale for Europeans. Neither the historical value of the hippodrome nor the earnest magnificence of Hagia Sophia is as interesting as the shopping area of this city situated among three seas. Istanbul Market shines like the magic lamp of Alaaddin."
Caravansarays
A great number of inns were built in the city starting with the period of Mehmet II. They are generally located between Eminonu- Unkapani, Beyazit-Sultanhamam and Beyazit-Aksaray.
The largest one of the inns is the Buyukvalide Hani. Other important inns are Rustem Pasha Hani, Zindan Hani, Leblebici Hani, Alipasa Hani, Cukur Cesme Hani, Cuhaci Hani and simkeshane Hani all built by Architect Sinan.
Among the Caravansaries which take place within large complexes, buildings annexed to the Beyazit Complex and Süleymaniye Complex are identified. Stable of the Caravanserai within the Beyazit Complex, today is being used as Beyazit State Library.