EXCAVATIONS AT EPHESUS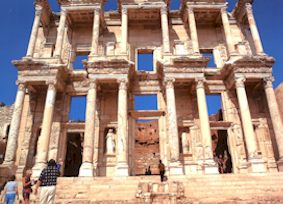 The first excavations were carried out in 1859-74 on the odeon and the theatre by].T.Wood under the auspices of the British Museum. Excavations were carried out on the Temple of Artemis in May 1869. Regular excavations began in 1895 under the direction of Otto Bendore, a member of the Viennese Academy. The excavations directed by R.Heberg on behalf of the Austrian Archaeological Institute uncovered the Agora, the Theatre, the Arcadiane and the Library of Celsus. Operations were suspended during the First World War, but work was resumed in 1926. Excavations were conducted by a large team under the direction of Hermann Vetters on behalf of the Austrian Archaeological Institute.
Owing to the dense and continuous nature of the Roman settlement it was only in 1960 that the Hellenistic layers were reached.
Ruins
Present-day visitors wishing to visit the Hellenistic and Roman remains at Ephesus have a choice between two entrances. If they arrive from the direction of Kusadasi they will enter Ephesus from the harbour gate. In that case the first building the visitor encounters will be: The Gymnasium of Vedius
Map of the ancient city of ephesus (plan)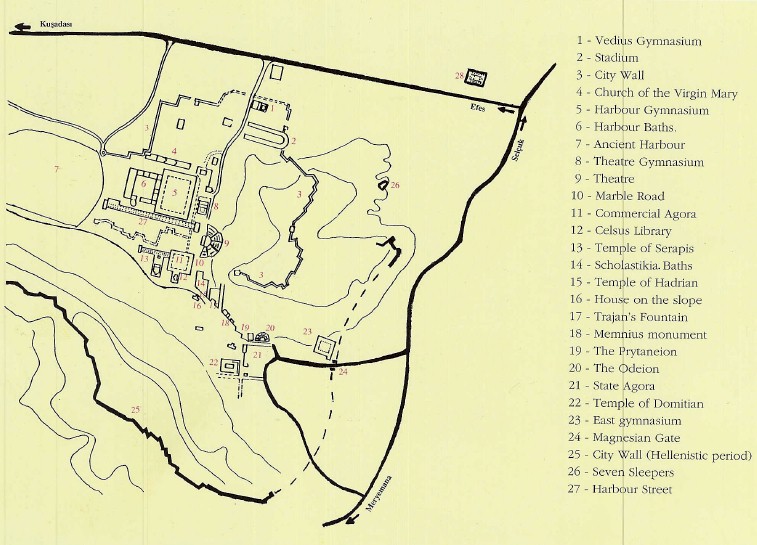 1 - Vedius Gymnasium
2 - Stadium
3 - City Wall
4 - Church of the Virgin Mary
5 - Harbour Gymnasium
6 - Harofur Baths.
7 - Ancient Harbour
8 - Theatre Gymnasium
9 - Theatre
10 - Marble Road
11 - commercial Agora
12 - Celsus Library
13 - Temple of Serapis
14 - Scholastikia Baths
15 - Temple of Hadrian
16 - House on the slope
17 - Trajan's Fountain
18 - Memnius monument
19 - The Prytaneion
20 - The Odeion
21 - State Agora
22 - Temple of Domitian
23 - East Gymnasium
24 - Magnesian Gate
25 - City Wall (Hellenistic period)
26 - Seven Sleepers
27 - Harbour Street
---