THE THEATRE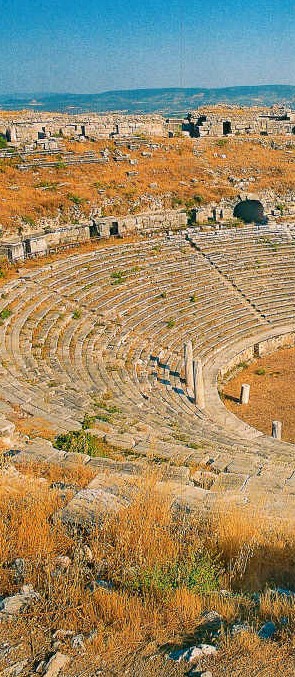 Whether or not one is passionately interested in archaeology a visit to this imposing building, which remains in an extraordinarily good state of preservation, is an unforgettable experience. Capable of seating 15,000 spectators, it was built in the 4th century B.C. and enlarged in the Hellenistic period, but, as it stands today, it is quite definitely a Roman monument. The wall and observation tower at the top of the upper section of the cavea are Byzantine in origin.

Resting against the southern slope of a small hill, this magnifipent theatre, measuring 140 m in diameter, overlooked all four of the Miletus harbours. The facade of the theatre reached a height of 30 m above ground level.

The stage-building, 34 m in length, was supported on three rows of columns and adorned with statbes. The postscenium, or last plrt of the stage, is in very good condition.

The cavea, which is in an excellent state of preservation, is divided into three sections each with eighteen tiers of seats intersected by flights of steps allowing the spectators to ascend and descend. Five stairs in the lower section, ten in the middle section and twenty in the upper affore the spectators access to their seats. In the centre, near the orchestra, is the "Imperial Box" marked today by two columns. An inscription on one of the tiers on the left of the upper section refers to a dispute with the workers during the construction of the building, which was finally solved as a result of advice given by the oracle of Apollo at Didyma. This has sometimes been described as the first recorded strike in history. Hellenistic remains are still to be found under the stage building. At the summit of the theatre, on the northern side, there is a small Byzantine castle dating from the 8th cehtury A.D. in the construction of which material from the theatre was employed.

This provided an excellent observation point from which the whole of the peninsula could be surveyed. One of the harbours was known as the "Lion Harbour" because of the statues of lions flanking the entrance. On the other side of the slope lies the tomb of a hero and several houses.
---