GOREME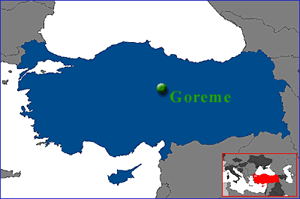 Göreme has the most beautiful setting in Cappadocia, the hotels and pensions fade into the village and the village fades into the fairy chimneys, hills and valleys.
Göreme has seen many changes particularly over the last 20 years as tourism has developed in the area. Nevertheless this small town still has a thriving community working the fields tucked away between the fairy chimneys and carrying on community seasonal activities such as autumn harvest of pumpkin seeds and the preparation of "pekmez" and "village bread" to see them through the long winter months. In Göreme you can see the old and new Turkey side by side (my personal favorite is the donkey tied up for a rest outside the Internet Cafe)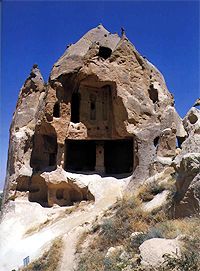 and as you wander through the winding village streets you will probably be invited to to the tea in one of the ancient cave houses still lived in by local families. Göreme has a friendly and relaxed atmosphere but there is cafe society and nightlife in the center of the village for those who fancy something more lively.
There is plenty to see in Göreme itself, and that famous Göreme Open Air Museum is just up the road, but Göreme also makes an ideal base from which to explore the rest of Cappadocia. Walking maps are available and just about every other form of transport can be hired (including camels for the really adventurous) for longer trips and tours. There is a wide variety of accommodation available in Göreme from basic camp sites right up to the beautiful Ataman Hotel, set at the edge of the old village in the Uzundere valley and offering a complete range of service in a traditional setting.
---
| Home | Turkey I Cities & Sites I Hotels I Blue Cruise I Tours I Contact Us | Search I
Ask for a quote to compare: Cruises I Biblical Tours I Incentive Travel I Hotels I Transfers
Copyright © 1995-2016 Turizm.net All rights reserved.