The Rahmi M. Koc Museum
The Rahmi M. Koc Museum, is an industrial museum opposite the entrance to the Citadel in the historic heart of Ankara, close to Anatolian Civilization Museum. Located in the historic Çengelhan - a former Caravanserai, built in 1522 - the Museum displays huge variety of exhibits on such diverse themes as Engineering, Road Transport, Scientific Instruments, Maritime, Medicine, and many others. The beautiful and atmospheric courtyard has been glazed in, and now houses the newly restored shop where the founder of the Koç Group, Mr Vehbi Koç started his working life. And when you have finished your museum visit, you can relax in either the Divan Café or the sophisticated Divan Brasserie in the courtyard.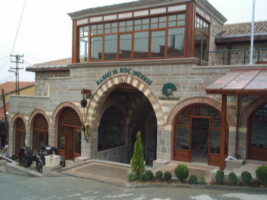 ---
| Home | Turkey I Cities & Sites I Hotels I Blue Cruise I Tours I Contact Us | Search I
Ask for a quote to compare: Cruises I Biblical Tours I Incentive Travel I Hotels I Transfers
Copyright © 1995-2016 Turizm.net All rights reserved.