How the "Blue Voyage" started?
Private Group Diving Tours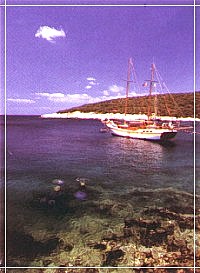 This is a special kind of adventure for a family or a group of friends: a cruising holiday aboard a traditional Turkish vessel, and the opportunity to dive as often as you like! A yacht is chosen based on the size and requirements of your group and then the cruising itinerary is set up with the help of your dive guide. Where there are diving opportunities, the divers in the group can do as much as they like, and the remainder of the group are free to swim, windsurf, snorkel or explore the shores.
Some groups may wish to hire a crewed dive boat and the services of a dive guide for a week of diving instruction. The cost of hiring all the equipment, a compressor and a dive guide is very reasonable, especially if the group numbers ten or more.