The "Blue Voyage" today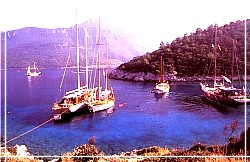 The Blue Voyage offers the best possible escape on the water: a means of forgetting the rigors of everyday life for a while and just letting go of time. On a week or two week cruise, travellers sail along the Southwest Turkish coast, through crystal clear waters frequented by schools of dolphins and into quiet bays, the harbors of small, picturesque villages and many a historic port.
Wherever you may come from, and however old you may be, after a week or two afloat in this scenic wonderland, you will become of one heart with the beauty and serenity of nature. Both body and mind will revel in this healthy, happy environment.
What alternatives exist?
For the type of Blue Voyage we offer, you don't have to hold a skipper's license, nor do you need to be an avid sailor. We provide you with a traditional wooden yacht which you charter with crew. If you cannot get a group together so as to take your own yacht, you still have the opportunity to join one of our weekly cabin charter cruises. You might even like to go for something racier, like a standard-sized bareboat with an English-speaking skipper.
Most of our yachts are of the traditional wooden variety, built either in Bodrum, Marmaris or the western Black Sea region. You will find a number of them pictured on the following pages and additional information is available in our Tariff Sheets.
Which season is best?
Between the end of July and the beginning of September, Turkey is extra busy with the height of summer bringing thousands to the coastal regions. July and August days are long and hot and the nights are warm. June, the beginning of July and all of September offer a better combination, with warm days and cool evenings. The water in September can be especially warm in places. The months of May and October offer excellent sailing conditions and the opportunity to go trekking or fishing.
How do we spend the time?
During the day, we cruise for a few hours and sail if the wind allows. Closer to lunch or dinner, we approach the land and drop anchor in a solitary bay, alongside a small village or off an island. At every stop, and there will be at least two per day, there is the opportunity to swim, fish, snorkel, windsurf, sunbathe, take a trip ashore or just read under the shade of the sun awning. The accent is on relaxation and recreation.
Your friendly, attentive crew will consist of a captain, a cook and either one or two seamen. Their job is to ensure that you are comfortable, well fed and entertained.
What about Scuba diving?
We offer diving tours for people who wish to explore the depths off the coast in the company of an experienced dive master. Bring your friends and make a group or join an organized tour.
Children?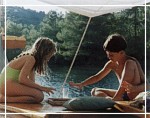 Provided they are accompanied by adults, children of any age are welcome to come along and will positively thrive in the warm waters of the Turkish Aegean and Mediterranean.
What shall we bring?
Our guests are advised that they will be spending most of their time in a bathing suit so it is a good idea to bring at least two! For land trips, a pair of long, light trousers and a shirt are advisable. Evenings may be cool, certainly during the earlier and later months of the year, so you are best to bring a pullover and a windbreaker.
We also suggest you pack your beach towel, plenty of suncream, snorkels/flippers/goggles if you plan on doing lots of snorkeling and a sleeping bag if you are planning to sleep on deck.
Bed linen and towels for use in the cabins are provided by us and you should expect a set of sheets during the hot summer months and a bottom sheet and a pique (thick cotton sheet) during the spring and autumn months.
Your Turkish crew may not have a thorough knowledge of English, so you might be advised to take a small traveller's dictionary along with you for the cruise. Besides being understood more easily, it is also a great way of picking up a few words of Turkish.
We suggest you bring your belongings in a collapsible bag, rather than a suitcase, as bags are much easier to stow away, and also serve to limit how much you pack! You may like to bring a light day pack for excursions ashore.
One final word of advice: normal street shoes are definitely not acceptable on board a yacht… we suggest you to bring soft-soled shoes for getting around on deck.