BLUE CRUISE IN TURKEY – BEYTEPE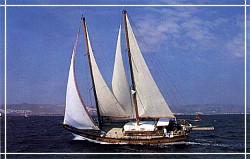 BEYTEPE is one of the yachts which takes Sailing Cabin Charter participants on a fun, educational sailing adventure. Although not as comfortable as a Gulet, BEYTEPE was built to sail in light winds.LOA / Beam: 60' / 15' m
Built: 1990
Engine: 135 HP Fiat
Sail area: 120 m2
Crew: 24 cabins for 8 people (all with upper and lower bunk berths) two bathrooms, 1 crew cabin, tender with outboard, windsurfer.Price info:The price below is the daily charter rate of boat, regardless of the number of people on board. The definition Gulet 6/6 means any boat of the mentioned category, all cabins having shower/WC. The prices are daily charter rates in USD and are valid for a minimum of 8 days rental. Included in the daily charter rate: diesel (for up to 4 hours cruising per day), water, tax and harbor fees in Turkish waters, insurance of the yacht and crew. VAT is included. If requested, meals can be given at $20.-per person/day.
Yacht's nameSpecificationsBefore 06.06 after 03.1006.06-18.07+ 12.09-03.1019.07-01.08+ 30.08-11.0902-29 AugustBEYTEPE18.2 m / 4 cabins / Ketch375465575620