BOOK A BOAT AT TURKISH COAST – ANTIK (I/II/ III )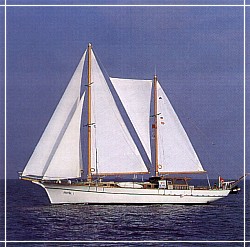 ANTIK's I, II and III are all finished to a high standard and offer comfortable cabins, a shaded aft lounging area and plenty of deck space. These Gulets are ideal for those who wish to combine com- fort with the added pleasure of sailing. This type of vessel is set aside for First Class cabin charters.LOA / Beam. 78' / 19' (ANTIK I)
LOA / Beam: 72' / 19' (l l and I II)
Built: 1989
Engine: 272 HP VOLVO P.
Sail area: 280 m2
Crew: 36 cabins for 12 people; all with ensuite bathrooms, crew cabin, tender with outboard, windsurfer.Price info:The price below is the daily charter rate of boat, regardless of the number of people on board. The definition Gulet 6/6 means any boat of the mentioned category, all cabins having shower/WC. The prices are daily charter rates in USD and are valid for a minimum of 8 days rental. Included in the daily charter rate: diesel (for up to 4 hours cruising per day), water, tax and harbor fees in Turkish waters, insurance of the yacht and crew. VAT is included. If requested, meals can be given at $20.-per person/day.
Yacht's nameSpecificationsBefore 06.06 after 03.1006.06-18.07+ 12.09-03.1019.07-01.08+ 30.08-11.0902-29 AugustANTIK I24 m / 6 cabins / Classic gulet8209009601050Yacht's nameSpecificationsBefore 06.06 after 03.1006.06-18.07+ 12.09-03.1019.07-01.08+ 30.08-11.0902-29 AugustANTIK II/III22 m / 6 cabins / Classic gulet800870930990