Blue Voyage Diving Tours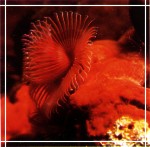 In order to participate as a diver, guests must have a recognised diving license and a current medical report. It is possible to both hire equipment from our base or bring your own. The cost of hiring a dive boat varies according to the time of year and the size of the boat size.
Dive participators pay an additional amount for a 'limit-free' dive package to include tanks, weight belts and the services of a dive guide. The idea of 'limit-free diving' is to allow for at least two dives per day and two night-time dives per week. Where time and conditions allow, more than two dives may be made in one day. One important note however: diving is not possible on embarkation/disembarkation days.