CREWED YACHT CHARTER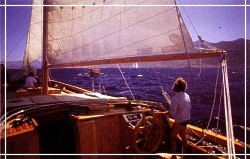 There are literally hundreds of classic and modern motor yachts and sailing yachts based in the Mediterranean and many charter out of Turkey during the summer season. A luxurious, well-appointed charter yacht offers the discerning traveller a holiday that is guaranteed to satisfy in every respect.
On a crewed yacht, your every need is attended to by a professional crew and your days are filled with panoramas of coast and sea, fascinating ancient ruins and quaint fishing villages. You can swim and snorkel to your heart's content and taste the freshest and most appetising of dishes, pre- pared according to your preferences. click for price information.
The choice of yacht is only limited to your imagination, as is to some degree, the choice of itinerary. When you charter a yacht, you are free to make up your itinerary as you go along. Your skipper acts as a valuable advisory source and can guide you to some of the area's lesser-known treasures. If you prefer, you are welcome to use one of our 'tried and true' charter plans, or you can have us put together an original itinerary based on your expectations for the trip. At any rate, we are here to advise you as to what is reason- able in the amount of time you have.
If you are ready to book your charter, you will need to provide us with the following information:
The number of people in your group, their mix of ages (i.e. if you have children, what age are they?) and their likely cabin arrangements (i.e. number of single, double and triple cabins required). If you would like an extra large cabin, or require air- conditioning, please let us know;
Your preference for a single vessel, two vessels or an indefinite number of yachts (i.e. two or more yachts travelling together is called "tandem charter" and can be a lot of fun for big groups);
Your preferred start and finish dates and any alternative dates you might have and your preferred ports of embarkation and disembarkation (i.e. where you plan to join the yacht, and where you plan to leave the yacht);
Any special requests which you feel will make the cruise more enjoyable (i.e. special occasions such as birthdays, anniversaries, reunions, etc. and special interests such as windsurfing, water- skiing, jet-skiing, sailing or ruins exploration).

If you are planning to charter a Turkish vessel and you require a member of your crew to speak good English, you might be advised to hire the services of a local guide for the duration of your cruise. Apart from giving you a better insight as to the Turkish way of life, any shore excursions to archaeological sites are sure to be more rewarding with a guide along.
Additional requirements such as reservations for flights and hotels, airport and hotel transfers and car rental, and their corresponding dates.

A crewed yacht charter holiday gives you the opportunity to see the best of the Turkish coast and at the same time enjoy a lifestyle once reserved for the very wealthy alone.