BAREBOAT CHARTER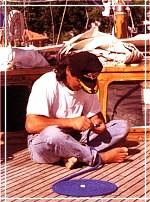 For those who prefer to steer their own, we can help you find the yacht of your preference. Just tell us your ideal boat dimensions and whether you wish to join a flotilla group or travel by yourself – we will then advise you on availability, price and ports.
In order to skipper a bareboat, you must have a skipper's licence and be able to show this on request. If you are not a licensed skipper, you can still hire a bare- boat, and we will organise a qualified skipper to accompany you. Joining a flotilla can be a lot of fun, and you have an expert to help out if you get into any difficulty. Another plus, you can leave and rejoin our flotillas as you like.
Bareboat departure ports are Bodrum, Marmaris, Orhaniye and Göcek and one-way trips, or trips from northern ports such as Kuşadası and mid-way ports such as Karacasöğüt can be arranged depending on the availability of your preferred yacht.
Prior to your charter, we can assist in organising transfers, accommodation and provisioning.