FULL DAY TOUR
Bosphorus and Asia (Daily except Mon. thu.)
The combination of Tour 4 and Tour 5 including lunch.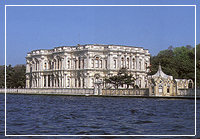 Beylerbeyi palace and Asia Tour: A pleasant drive to the Asian part of Istanbul through Intercontinental Bosphorus Bridge. First stop will be at the Çamlıca Hill, the highest point of Istanbul for panoramic view, than a short drive to a small village by the Bosphorus called Beylerbeyi to visit the 19 th century summer palace of the sultans. After a full tours of this palace, including the Harem, opportunities for shopping and leisure in this small village.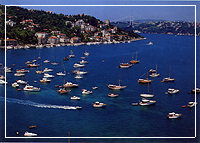 Asia Tour: After a short visit to the famous Egyptian spice Bazaar (closed on Sunday), unforgettable excursion starts between two continents, Europe and Asia. The cruise takes you along the latest places of Ottomans, the Dolmabahçe and Beylerbeyi, as well as 19th and 20th century, beautiful wooden Kiosk. Mansions and modern villas which from the elegant section of the city. Disembark at Sarıyer, near the Black sea, and drive along the strait to the most interesting Ethnological museum of Istanbul. (Closed on Wed. rep. Rumeli Fortress)
AFTERNOON BOSPHORUS CRUISE
Drive to Sarıyer, a charming fisherman village located where the Bosphorus meets the Black Sea. Embark on a ferry and start cruising along the pearl of the city, perfect possibilities for sight-seeing where you can take pictures of the sultans palaces and Rumeli fortress, mansions and modern villas which from the elegant section of the city, during the stops at Asia and Europe. Visiting Spice Bazaar is also available in the tour.