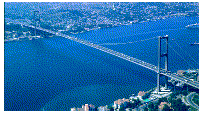 Turkey, standing at the crossroads of major trade routes between Europe and Asia and being the cradle of a succession of major world civilizations dating back 8000 years, has many transit roads between West and East passing through the country.

Turkey has the most sophisticated infrastructure level in the region. One of the prerequisites of economic development is efficient transportation services and Turkey has attached importance to this factor for many years. During the last decade significant efforts were spent to renew and develop the transportation and communication systems and as a result, significant improvements were achieved. While the fixed capital investment in these sectors constituted 14.8% of total investments in 1980, this rate gradually increased to 23.9% in 1985. However in 1990 the investment rate diminished slightly to 20%. This rate was 17.4% in 1994.

Investments to improve the highway system resulted in highways dominating cargo and passenger transportation. As a result of developments and improvements in the highway network, the relative importance of highways has certainly increased. The highway length has reached 61,245 km of which 1246 km are motorway and 50,684 km are asphalt roads. The number of mobile transportation vehicles reached 4,905,872 as of the end of October 1995. 61% of this total consisted of automobiles, 5.3% public transportation vehicles, 14.4% cargo transportation vehicles and finally 19.3% special purpose vehicles, road construction and works machinery.

The railways are state-owned and operated. Investment in this sector has been aimed at improving standards so that rail transport can become a competitive alternative to road and air transport. With the projects that are underway at present and with those to be pursued in the coming years, the length of electrified lines will increase from 1093 km to 2,938 km. As a rolling stock fleet, Turkish State Railways (TCDD) has 545 diesel mainline, 59 electric locomotives, 99 multiple units, 18,532 freight cars and 1,100 passenger coaches.

The length of railways is 10,386 km of which 1093 km are electrified. The total number of passengers in this sector reached 104.9 million in 1995 (provisional). 15.5 million tons of cargo was transported in 1995.

Turkey, a country surrounded by seas on three sides, places great emphasis on port development and sea transport. Turkey with its 8430 km of coastline, has 15 principal state-owned ports, around 30 municipal wharfs, about 35 special purpose wharfs belonging to industrial complexes, and a number of private wharfs and quays. The state-owned ports of Samsun, Haydarpasa (Istanbul), Derince, Bandirma, Izmir, Mersin and Iskenderun are operated by the Turkish State Railways (TCDD) and 29.2 million tons cargo was transported in 1995. A high proportion of the country's overall transport traffic is handled by these harbours.

Shipping activity grew rapidly in the late 1970s and early 1980s. Although the capacity of the Turkish maritime fleet which was 2 million DWT in 1980 and reached 6 million DWT in the first four years of the 1980s as a result of the measures undertaken, the capacity of the total maritime fleet was 5.6 million DWT in 1991. Two million gross tons of cargo were transported in 1981 and that amount reached 40 million tons in 1990's. The Turkish Cargo Lines (Maritime Fleet) tonnage increased to 7.8 million DWT in 1993 and approximately 8.6 million DWT at the end of 1994. The share of vessels in overseas transportation flying the Turkish flag increased to 40 percent in 1993. The main ports are Istanbul, Izmir, Izmit, Samsun, Trabzon, Mersin and Iskenderun which provide modern facilities under a well advanced infrastructure.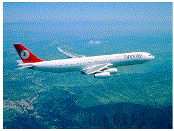 Turkey has airports handling international and domestic flights, the major international terminals being Istanbul (Ataturk), Ankara (Esenboga), Izmir (Adnan Menderes) Adana, Trabzon, Erzurum, Kars, Gaziantep, Sinop, Bursa, Samsun, Dalaman and Antalya are major charter flight points. International airlines operate in Turkey in increasing numbers each year. Turkish Airlines flies to 55 points abroad and 22 cities within Turkey. At present, the Turkish Airlines fleet is composed of a total of 53 passenger airplanes with a seating capacity of 8835. With regard to airline transportation, private companies were also authorized to establish and operate their own fleets. While 13.7 million passengers were transported in 1990, the figure reached 22.3 million passengers in 1994. Airway transportation was 77 public and private companies, 441 planes with 19,528 seating capacity in 1994. All international regulations regarding scheduled airline operations are fully applicable, but there are few restrictions for charter airline services. The latest restriction for charters is the requirement of ownership of the aircraft.