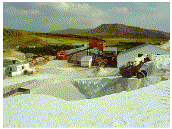 Turkey has a wealth of industrial minerals. The share of industrial mineral reserves in Turkey is about 2.5% of the world's total reserves.

Boron Minerals: Since Turkey possesses two-thirds of the boron reserves in the world, it has an advantage in marketing boron and its derivatives. The production of boron minerals is expected to reach 1.050 million tons. Nearly all boron deposits in Turkey are operated by Etibank, and Turkey is the world's second largest boron producer and exporter.

Dimension Stone: The various types of stone in common use in Turkey are as follows: marble, granite, limestone, dolomite, basalt, sandstone, quartzite, slate, tuffs, onyx, travertine, serpentine and diabase.

In recent years, the use and production of magmatic original rocks for dimension stone is greatly increasing in Turkey. The best known varieties of these stones are granite, syenite, and diabase.

Afyon white, Afyon sugar, Elazig cherry, Burdur brown, Marmara white, and Denizli travertine are some important regional varieties having special colors.

Magnesite: Turkey produced 1.3 million tons of raw magnesite, 20,000 tons as calcined and 200,000 tons as sintered magnesite in 1994.

Barytes: The production capacity of crude baryte is 900,000 tons, while salable production is 300,000 tons.

Pumice: Over the last years, pumice production has reached 2.150 million tons. Turkish pumice stone is desired in the raw materials market to be used in textile washing plants. New improvements are expected in the product development.

Feldspar: Turkey has abundant reserves of feldspar in the Manisa, Bilecik, Balikesir and Kutahya provinces. Mostly sodium feldspar is produced in these regions. Each ceramic plant in Turkey has their own quarries to provide the needs of their factories.

Celestite: Turkey is a major producer and exporter of celestite. Annual celestite production capacity in Turkey is about 90,000 tons per year.

Emery: Turkey has provided 80% of the world's demand of emery. Most of the products exported have been used as abrasives.

Trona: There are many unexploited reserves of soda ash in Turkey. Accordingly, meetings with foreign investors are being held to evaluate trona deposits.

Refractory and Ceramic Clays: Turkey has a strong industry in the field of ceramic and refractory clays. The main reason for the development of these sectors is that Turkey has a vast and diverse reserve of clay minerals.

Turkey is in an advantageous situation as regards the natural resources of the Central Asian Turkish Republics. It is recommended that those companies, who are willing to invest in this area get in touch with the Turkish companies who are engaged in mining activity.