Foreign Trade Policy and Volume

In January, 1980 Turkey accepted the concept and principals of a free market economy. Since that time all necessary measures have been put into force in order to realize the main target: export -oriented industrialization. In this context, a flexible exchange rate policy, liberal import regime, new foreign investment policy, measures for a liberal money market and modern capital market and new export promotion policies have been put into force.

(1) January-October Period
Source: State Institute of Statistics
The Turkish economy showed an impressive response to these measures, such as a rise in foreign trade, both in exports and in imports, and a noteworthy change in the structure of exports. The dominant role of agricultural products in exports was ended in favor of industrial products. Also the product range was diversified and the volume of foreign trade increased about threefold in that decade.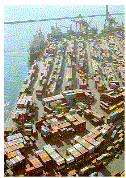 In the 1990's, due to unfavourable political and economic conditions both inside and outside the country, Turkey's trade balance was adversely affected. On one hand the Gulf crisis, the economic embargo against Iraq and the war in Bosnia and on the other hand the appreciation of the Turkish Lira and strong domestic demand all slowed down the growth rate of exports. The recession in world markets, especially in OECD countries, also affected Turkish exports. However, as another result of the appreciation of the Turkish Lira and liberalized foreign trade caused a boom in imports.
In 1994 in order to improve the balance of payment deficit and foreign trade, new export policies were put into force, such as: diversified export credit programs and free market conditions for foreign exchange rate.
In 1995 Turkey made the necessary arrangements in its foreign trade policy to conform with the Uruguay Round Agreements as well as the Customs Union Agreement that was signed with the EC and put into force on the first of January, 1996.
In this framework, Turkey has adopted a large body of EU trade legislation affecting almost every aspect of business, including the common customs tariff (CCT) which the EU applies to industrial goods imported from other countries. Under the customs union the following changes are occurring:
Tariffs: Turkey has removed tariffs on imports of EU industrial goods. Apart from textiles, the EU has done away with most duties and quotas on industrial imports from Turkey. The free movement of goods within the customs union applies to all products, including those imported from third countries into either the EU or Turkey.
Customs code: Turkey has adopted the more significant Articles of the Community Customs Code and has been implemented the new import and export legislation since the beginning January 1996.
Textiles: Turkey is to abide by EU textile policy.
Motor vehicles: Turkey has kept tariffs on cars with engines larger than three litres above EU Common Customs Tariff levels. A monitoring system has been set up for imports of Japanese cars.
Intellectual property: Turkey brought copyright and patent law into line with the EU, and is to implement the Uruguay Round rules on patents for pharmaceutical processes and products by January 1, 1999.
Competition: Turkey has aligned laws fully with the EU and set up an independent enforcement agency.
Commercial policy: Turkey to align within five years with EU policy on trade preferences.
Agriculture: Both sides are to work towards free trade in agricultural products by 2005: negotiations on specific mutual concessions in the mean time.
Social policy: Turkey reluctantly agreed to postpone negotiations on free movement, working conditions, employment, social entitlements and rights of establishment of workers in the EU.
Foreign Trade Volume:
In 1994 Turkey's foreign trade volume totaled $41.3 billion US. In comparison with the previous year, there was a 7.6% decrease in trade volume due to the decrease in imports.
In 1993 Turkey's trade deficit reached a record $14.0 billion US . Fortunately, in 1994 this value fell to $5.1 billion US as a result of measures taken on April 5th 1994. On the other hand, the export/import ratio was 77 % in 1994, while it was 52% in 1993 and 36.8% in 1980.
In the first ten months of 1995 Turkey's trade volume showed a 38.6% increase with a value of $44.9 billion US compared with $32.5 billion US in 1994 for the same period.
Foreign Trade Of Turkey, (US $Million)
| | | | | | | | | |
| --- | --- | --- | --- | --- | --- | --- | --- | --- |
| | 1980 | 1985 | 1990 | 1991 | 1992 | 1993 | 1994 | 1995(1) |
| Export | 2910 | 7958 | 12959 | 13594 | 14719 | 15348 | 18105 | 17180 |
| Import | 7909 | 11343 | 22302 | 21047 | 22870 | 29429 | 23270 | 27816 |
| Balance | -4999 | -3385 | -9343 | -7453 | -8151 | -14081 | -5165 | -10636 |
| Exp/Imp% | 36.8 | 70.2 | 58.1 | 64.6 | 64.3 | 52.1 | 77.8 | 61.8 |
| Volume | 10819 | 19301 | 35261 | 34641 | 37589 | 44777 | 41375 | 44996 |
(1) January-October Period
Source: State Institute of Statistics