THE RUINS OF HIERAPOLIS
The remains to be seen at the present day all date from the Roman period. Nothing has survived from Hellenistic times. Even the city defence walls are no exception. These walls are not very impressive in either height, strength or quality. Indeed, there was no need for strong city walls during the period of the Pax Romana and, in any case, the sacred character of the city was its most effective protection. The walls were very probably erected against thieves rather than hostile armies. The ruins to be visited include the remains of the city defence walls, the foundations of the temple of Apollo, the site of the Plutonium, the nymphaeum, the theatre, the sacred pool, now incorporated in one of the motels, the Gate of Domitian, the triumphal arch, the Byzantine gate, the colonnaded street, the baths, the cistern outside the walls, the churches, the necropolis (the collection of tombs on the west) and the foundations of the tomb of St. Philip on a hill outside the city. The first excavations on the site were carried out in 1887 by a team of German archaeologists under the direction of C.Humann. A collection of the excavation notes kept by the archaeologists Humann, Cichorius and Judeich was published in Germany in 1889 under the title Altertumer von Hierapolis.
In 1957, work in this region was begun by a team of Italian archaeologists under the direction of Professor Paolo Verzone. The very successful restoration of the theatre carried out in recent years is the work of these Italian archaeologists. The plan of the city is in the nature of a rectangle with an east-west alignment. The streets are arranged to intersect at right angles, forming rectangular blocks. The streets were reserved for pedestrians, and those running from north to south traversed the whole length of the city. The alignment of the Plateia, the most important street in the city, which cut across the east-west colonnaded street, sentes to indicate the position of the north and south gates. The north gate is flanked by towers with architectural decorations.
The city plan of Hierapolis: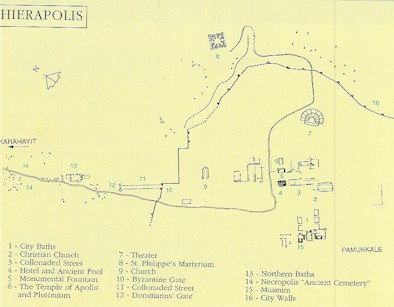 1 - City Baths
2 - Christian Church
3 - Collonaded Street
4 - Hotel and Ancient Pool
5 - Monumental Fountain
6 - The Temple of Apollo and Plutonium
7 - Theater
8 - St. Philippe's Martyrium
9 - Church
10 - Byzantine Gate
11 - Collonaded Street
12 - Domitianus' Gate
13 - Northern Baths
14 - Necropolis "Ancient Cemetery'
15 - Museum
16 - City Walls