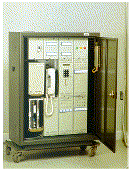 Telecommunication services in Turkey have shown a significant improvement recently. While the number of inhabited places having automatic telephone exchanges was 183 at the end of the year 1983, it has now reached a total of 8016, an increase of 4280%. At present, telex services are offered in Turkey at every point and in a wide area. International telex communications are provided to a total of 221 countries. International telephone communications are currently available for a total of 221 countries; direct dialing exists with 218 countries and there are manual connections with 3 countries.

On the other hand, teletext -one of the modern text communication systems-was initiated as of 1986. By means of this service, very rapid message transmission is performed through teletext terminals linked to the telex network. Facsimile and bureaufax services are now available in almost all the provinces of the country.

Nation-wide synchronous data communication service was initiated with the 2000 line capacity electronic circuit switching (TDX) data exchanges built in Ankara, Istanbul, Izmir and Adana. It is also obvious that the packet switching data network, which has a wide implementation field and which displays a rapid development, provides vast possibilities for TELEMATIC and INFORMATIC services. Being fully aware of this fact, the General Directorate of PTT (Turkish Postal Authority) introduced the packet switching data network in 1986 on a trial basis. To further this system as well as to cover the demand for international traffic with its present linkage to 23 countries through TELENET via satellite, a greater capacity packet switching data network, namely TURPAK, was brought into service. Thereby, reliable, high quality and economical services have been offered to users in order to cover all their requirements related to data communication.

Turkey has three earth stations for satellite communications (INTELSAT, EUTELSAT, INMARSAT) and the first Turkish satellite, namely "TURKSAT" was launched in August 1994.

Apart from satellite communication systems, Turkey has large capacity microwave radiolink systems with her neighbors such as Bulgaria, Greece, Iran, Iraq and Syria.

Also, a microwave radio link system between Turkey and Azerbaijan was established in the first quarter of 1992.

The Turkish PTT, having achieved all these significant developments, has gained considerable knowledge and experience in planning, projecting and implementing communication services since 1840 when it was founded. And, as a result, of the level of telecommunication is no longer a constraint for business transactions with Turkey.

There has been rapid development in television broadcasting, Turkey's most important medium of mass communication.